Technology to unleash the magical power of Referral marketing
UNIFY PLATFORM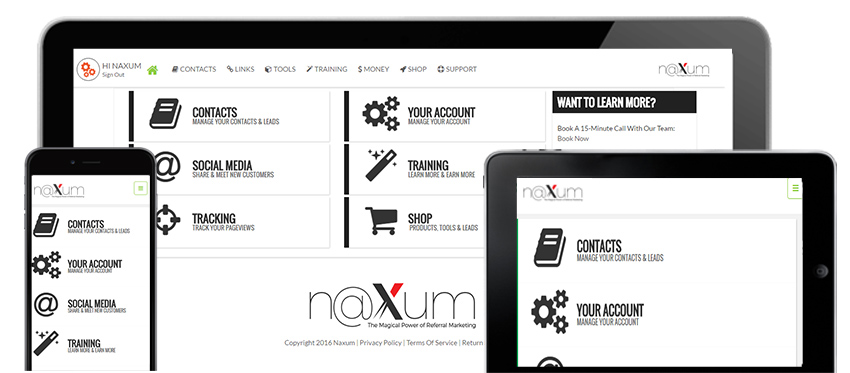 The NaXum Unify platform is the complete solution to any company in the referral marketing space.
If you use MLM, Direct Sales, or Affiliate marketing to grow your company, this system is the key to maximizing your impact in your industry.
We combine the remarkable NaXum "Builder" marketing platform with our proven "Tracker" commission and shopping engine to create a powerful single-sign-on experience for your customers, affiliates, and administrators.
We create custom commission tracking engines and shopping experiences that reward the proper behavior.
Our tracking modules include tracking systems and hybrids of:
Uni-level Commissions
Matrix Commissions
Australian X-Up Commissions
Binary Commissions
Breakaway Commissions
Affiliate Commissions
Your affiliates utilize a customized platform with modules that could include:
Contact Management with Smart Search
Social Media Poster Blog System
Replicated Webinars
Capture Pages
Replicated Sites
Autoresponders
SMS Texting
Video Email
Live Chat
Support Suite
Team Training Center
Shopping Carts
Autoship Billing
Multi-Merchant Account Billing
WordPress Blogging System
Commission Payment Center
Mobile ANY Device Platform
Multi-language Systems
Co-op Management System
Want to check it our for yourself? Create a free demo account here: Create My Account